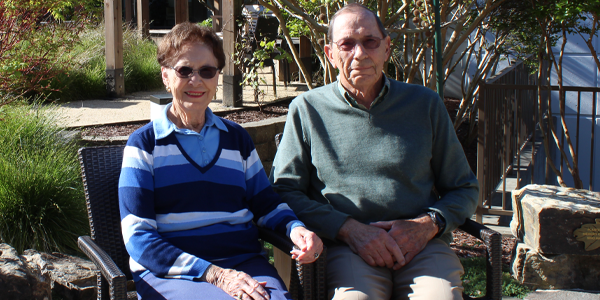 A Lifetime of Giving
After retiring from a long career in medicine, first as a general practitioner in Watsonville and then as an ophthalmologist at Dominican Hospital, Dr. Keith McKenzie kept on giving back to the Santa Cruz County community by donating his time and resources to the Dominican Hospital Foundation.
"I came from humble beginnings and I have been blessed. Doors have opened for me all my life," says Dr. McKenzie. "So, I see it as giving back."
Dr. McKenzie has donated his time and resources to the foundation in numerous ways since he retired almost 20 years ago. He is an active emeritus board member, served on the board from 2002-2014, and played a substantial role in making the Healing Courtyards Initiative a reality as chair and vice-chair of the committee.
"It just seemed like the perfect way to improve the hospital because our focus is on the patient," says Dr. McKenzie. "We want them to feel safe and encouraged when they're stressed out, and the gardens work great for that."
Dr. McKenzie and his wife, Della, increased their giving to the Dominican Hospital Foundation with a charitable gift annuity (CGA). A CGA transfers ownership of cash or property to the Foundation, in exchange for a tax deduction and annual income to the donor. The charitable gift ensures that the McKenzie's will continue to support Dominican Hospital even after he and his wife are gone.
"I recommend the CGA (my CPA agrees) because it's a win, win, win! Real estate or stocks that have increased in value are key to the process. These entities, when donated to Dominican, allow you to deduct the entire value from your taxes, plus capital gains taxes are avoided," says Dr. McKenzie. "Because it is an annuity, the donor receives a dependable income during his or her lifetime. The donation stays in our community. And goes to improvements in our medical care. "