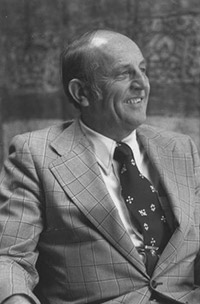 We are grateful to those who remember Dominican Hospital Foundation through a bequest, life income plan, or other type of legacy gift. Your support strengthens and ensures the future of our unique organization.
When you notify the Foundation about your gift, whether intended or received, we will invite you to join our
Bob Swenson Legacy Society
. As a member, you will be invited to our annual event and special activities. We will also recognize you in publications and at Foundation events. When you step forward, others are encouraged to do the same, though you may choose to remain anonymous.
Should you name the Foundation in a legacy gift, we would welcome a copy of the legal document or section of document that accompanies your gift. This can make estate administration easier when your gift is received.
Bob Swenson (1918-2007) is a legendary figure in Santa Cruz County. He was founding president of the Dominican Hospital Foundation from 1968-1975 and also served as president and a founding member of the Heritage Club, now known as the Bob Swenson Legacy Society. Through his efforts, many individuals left bequests to the hospital and, as a result, he made a tremendous impact on patient care.
Dr. Robert E. Swenson was founding president of Cabrillo College in 1959 and also instrumental in the creation of the Community Foundation Santa Cruz County and the United Way of Santa Cruz County. His commitment to our community was far reaching and an invaluable contribution, creating lasting benefit. He and his wife, Fran, raised six children in our community. In Bob's own words, "As a long time Dominican supporter, I have seen first-hand the vision, spirit and commitment of the Adrian Dominican Sisters, hospital staff, medical staff, Auxiliary, committees, and many community volunteers. As a result, we have a quality of health care not often seen in communities our size."
Click here
to download the Legacy Society form.
Anonymous
Dr. David and Phyllis Albritton
Dr. Michael and Toby Alexander
Ron Allan
Karen Anderson
Michelle Anderson and
Daniel Morgali
Vonnie Anzalone
Nancy Austin and Bill Cawley
Jim and Suzie Bargetto
Leo Bargiacchi
Mary Bates
Harry Lalor and Nora Beardsley
Vivian M. Beebe
Maureen Benito
John Biondi
Jared and Laura Bogaard
Dennis and Joan Book
Bob and Susan Bosso
Ted Burke
John and Linda Burroughs
Thomas Butler
Gary Scofield and
Gail Carhart-Scofield
Marilyn Chambers
Dr. Agnes Chien and
Dr. Howard Nelson
Josie and Chuck Cowden
Dr. Robert E. Crompton
Larry and Mary Donatoni
Dr. Bruce and Jean Dunn
Yolanda Dybdahl
Larry Edler
Betty Elward
John J. Fisher
Warren Forest
Elizabeth Ann Foster
George and Nancy Gallucci
Edna Gaub
Pauline Geimer
Phyllis Gilbert
Angelo and Beverly Grova
Ken Haber
Mel and Mary Haber
John Hayford
Julia Huot and
Thomas Mountain
Don Jackson
David Jacobs and Emily Klein
Dr. Julie Jaffe
Erik and Judy Johnson
Bennett and Suzy Katz
George Kosovac
Randy and Janet Krassow
Sam and Susan Leask
Jeffree and Laura Lee
Alan and Judy Levin
Dr. Paul Levin
Robert and Janet Lockwood
Dr. Gail and
Roseanne Magid
George and Harriet Mainis
Linda E. Malloch
Bruce and
Caroline Manildi
Al and Sandra McCommon
Dawn McCormick
Doug McCormick
Dr. Keith and Della McKenzie
Donoval McNeal
Florence McNeill
Ian and Elisabeth McPhail
Fred and Linda McPherson
Dr. Nanette Mickiewicz and
Dr. Michael Ellison
Frank Minuti Jr.
Dr. Ken and Sandra Miura
Sandra Mock
Dr. John Morris
Robin Musitelli
Joshua and
Leah Nadherny-Calciano
Cherry Newton
Helen Paul
Dr. Henry Pearce
Robert and Beverley Petersen
Miriam Pike
J. Tal and Cathy Pomeroy
Muriel Potter
Muriel Prolo
Doris Rasmussen
Bob and Edie Rittenhouse
Diane Robey
Mary Joan Rodriguez
Pam Santacroce
Don and Bonnie Santos
Cathleen Schlumbrecht
Marilyn Scott
Robert Scott
Bob and Kathleen Semas
Lynda and Jim Sheppard
Jon and Margie Sisk
Gary and Barbara Smith
Mary C. Solari
Dr. Michael and
Berdell Spellman
Jack and Mary Stagnaro
Ronald and Barbara Taft
Leonard Thigpin and
Stephanie Hauk
Lee and Gwynn Thoma
Lee and Johna Vanderpool
Lawrence and Nanette Violante
Rachel Wedeen
Sharon Wileman
Louis Zwerling